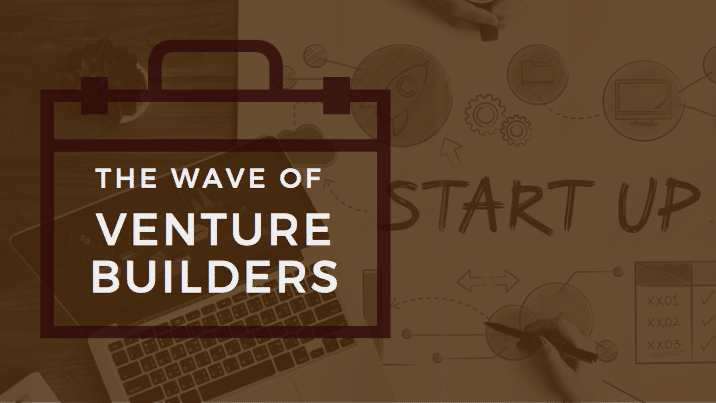 A Recent Model: Venture Builder
Monkey Inferno, eFounders, Rocket Internet; a wave of venture builders is taking up an increasingly key role in the startup ecosystem.
It is difficult to trace when the model of the venture builder dates back to, but at least as early as 1996, Idealab, an early pioneer, was already pooling talents and resources to invest in and launch multiple startups at the same time. By 2016, a crop of articles on venture builders fully legitimized a distinct operational model within the startup world. When "The 300* Startup Studios Taking On the World" appeared in Medium in March of 2017, a sense of bounty in the long list made clear the fact that the venture builder (or "startup studio," or "digital lab") is a concept that is here to stay.
Despite the proliferation of venture builders, one obstacle a venture builder faces is in establishing its difference from an accelerator or a venture capital firm. Perhaps, "startup studio" is still the best name for describing what a venture builder does. Like any kind of studio, a venture builder produces things; in this case, startups. A studio production utilizes equipment and team that have worked across different projects, putting its stamp on whatever new productions it puts out. Similarly, a venture builder enables startups to leverage its internal team of business developers, designers, developers, marketers and sometimes VCs in the ideation, development and launch of a company. It is a strong business model and one that is structured for acceleration: invest in a fully equipped, talented team, identify a few things you do well, replicate the model and put your team to work to grow different businesses in parallel.
Yet although a venture builder takes equity in the startups it helps to build; it differs from the aloof VC model of "parallel entrepreneurship." A VB is not just looking for a quick exit. Like accelerators, venture builders provide the necessary support and resources to early-stage startups, but while the ventures that are part of an accelerator program remain separate and external to some extent;  a VB is more hands-on and often functions as an interim co-founder of the ventures it helps to co-launch.
How Does it Work: The Rocket Internet Example
Venture builders gained their visibility partly through the tech superstars that have been behind some of the most prominent VBs out there. These include Obvious Corp (Twitter, Medium), Mark Levin's HVF (Hard Valuable Fun), which is behind Glow.com, Betaworks (bit.ly, Giphy) and Germany's Rocket Internet (one of its most recent successes is Southeast Asia's Lazada, now owned by the Alibaba group). Since having an experienced team behind a venture minimizes risk, VB-backed startups typically gain more access to funding. Providing a network of angel investors and the full resources necessary for the development of a project, VBs act as equity partners and can take as much as up to 40% equity in any of the ventures they help to launch.
The Rocket Internet example is a well-known one. Rocket Internet does not look for the new thing in the market so much as it identifies and replicates good business models. Entrepreneurship is inherently risky business, and Rocket Internet's success is in large part dependent on replicating a tested-and-proven model in industries in which they have some expertise. Although often accused of being a factory that churns out copycats of proven startups, Rocket Internet has gained rather than lost through identifying the startup models that work and reproducing them rapidly in emerging markets. In the process of launching a new venture, Rocket will usually recruit internally to staff these startups, before slowly transitioning out of the ventures which are expected to become independent entities. For all its flaws, Rocket Internet showcases the venture builder's strength, the ability to transfer institutional knowledge across the startups in its portfolio and thus to increase the probability of success in execution.
The Creatella VB Model
The VB model continues to evolve. At Creatella, we build internal startups which are in-house projects ideated from within the team and developed from scratch (e.g. https://bilingua.io). However, we also work with startup founders whether they are in need of a clickable mockup, tech development, or are looking for a committed team to take up the role of a CTO. As with the classic venture building model, Creatella provides the resources of a complete in-house team. We leverage our team and knowledge to help founders succeed. We are willing to take a measure of risk in the projects we take on, and are on the lookout for passionate innovation, even if it does not yet have a proven record of success. We also pride ourselves on partnering for the long-term, integrating into existing teams and in staying lean. We believe that a founder's vision for a project matters, our role is in ensuring the quality of its execution.
The VB model is an increasingly attractive one in a high-risk startup market. It is hard for a startup to succeed; partnering with a team that has done it before, many times, across many different ventures reduces the risk of failure. Since its inception in 2016, Creatella has worked with more than 30 startups worldwide (in Singapore, Paris, London and New York). We are a rigorously selected team of designers, developers, digital marketers and project managers. Together with our founders, we have raised more than 35 million dollars in our portfolio and we are restless to sustain our rate of exponential growth. Have a project in mind? Talk to us.